Choosing a web host is like buying any other product online.  One has a lot of choice and good competition owning to the declining hardware costs.
A web host is a server that will physically host your web site for everyone to access.  A web host is usually chosen on the basis of reliability (high uptime), good customer service, bandwidth + hardware provided and cost effectiveness.  Each web host will have something or the other to offer over others.  The best way to choose one is to read reviews online and see comparison tables on unbiased sites.  Everyone will have different priorities be it cost, bandwidth, space provided, etc.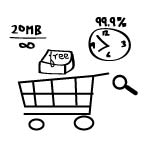 Below are the top lessons learnt while choosing a web host:
Shared servers are cheaper than dedicated ones (duh!). The shared servers are the cheapest to host one's website especially if it is your first.  Not a bad choice when you are just starting out and are yet to learn the tricks of the trade.
Get discounts if possible. Be on the lookout for coupons / offers before placing your order.  Click here to read my blog entry that describes this.
Browse a few of the sites hosted on the web host. This will give you an idea of the kind of response time the audience of your site can expect.  Check out http://www.myipneighbors.com/ to see the sites that hosted by your web host in addition to yours.
There is nothing called free lunch. If some web host offers unlimited hard disk / bandwidth, just ignore the claims  as these sites are promising the world on the assumption that you never really need those many resources.  If you actually do, you will be restricted on the basis of CPU usage and the word "unlimited" will start making a lot less sense.
Understand the services provided. For example, if you plan on writing a blog, check the version of PHP, MySQL and WordPress that the web host will provide.  If ssh is important for you, check to see if it included in the package or not.
Choose a web host that provides a 30 day cancellation policy. Try to sign up with a host who has a cancellation policy and read it before you actually pay the money.  Get started with your site from day 1 so that you know whether the service provided by the host is acceptable or not.
There is no free dinner either.  Make sure you are not taking the domain name (usually a promised lifetime freebie) from the web host.  If you cancel, you will usually have to pay for the domain name at a much higher rate.  Not taking the domain name from the web host gives you a lot of freedom to switch as per your will.  Remember the longer you commit yourself with the web host, the cheaper the cost will be.  However, you will be losing out on freedom to switch at will.
I think most of the time spent while finding the right web host goes into reading reviews, visiting forums and getting feedback on the shortlisted web hosts.  Getting hold of coupons and filling in the sign up form on any web host should not take more than 20 minutes.  The research is always worth the effort but do remember that people still make mistakes and learn from them too.
BTW the image above is my failed attempt to depict 99.9% uptime, a case where only 20MB of the unlimited harddisk space is used by a website, freebies offered by web hosts and your attempts to shop and search for something that suits your needs.